Dear Friends of The Public Knowledge Workshop (Hasadna),
We've been buzzing with activity over the past months, getting our sites ready for the upcoming elections, and providing citizens with tools for making informed decisions. We've launched new apps and held several coding marathons, attended by hundreds of software developers, analysts and activists. These events were an opportunity to concentrate our efforts and boost productivity as well as to attract many new volunteers to join our community.
Now, more than ever, our websites are needed to create informed and engaged citizens. We are building tools that enhance democracy, not only at the ballot, but throughout the year, leading a culture of government transparency and accountability.
Shevy Korzen
Executive Director
The Public Knowledge Workshop
From Code to Vote
In February we held at two-day hackathon – a marathon of code, data, visualization and content. Over 100 software developers, designers, journalists, data scientists and concerned citizens who care about open government got together for an intense weekend of teamwork to advance our projects. The goal of the event: to increase transparency of the elections and to provide Israeli citizens with efficient tools to make educated decision at the polls.
During the weekend we launched new features and made many crucial fixes to our systems. Working on Open Knesset we found irregularities in lobbyists registration in the Knesset, the Budget Key team designed a easy to use interface for querying the budget, and the folks working on our Open Law Book project assembled the texts of dozens of laws and regulations for public use.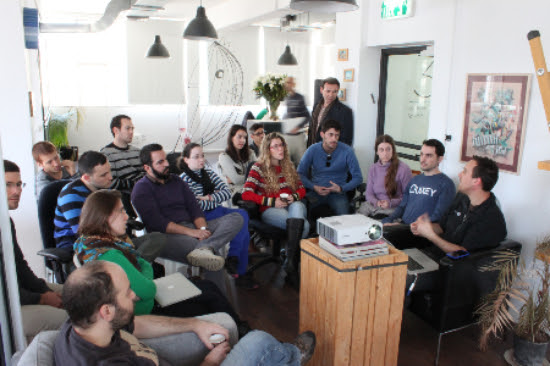 Our newly launched Kikar Hamedina (the Agora) website, which aggregates all the activity of the Knesset members on Facebook, spawned many creative uses. Prof. Karine Nahon used it to analyze politicians' pre-elections discourse. In her articles she reveals, for example, that right-wing parties have dominated the social networks space during these elections, and that Mr. Kahlon (Kulanu party) and Mr. Deri (Shas) share a lot of common rhetoric.
Our open and accessible databases and APIs (interfaces for developers to create apps using our platforms), served as fertile ground for the development of many election applications. These include our very own
Bchirometer
app (Election Meter) which helps voters see which political parties voted according to the agendas they deem as important, and the
Submarine,
a game developed in cooperation with The Marker magazine, for choosing which politicians should head Knesset committees. Other apps based on our platforms include:
AzLemi
("So, who should I vote for?")
Calcalist economic pre election tool
, a
visualization of Knesset voting patterns
, and the fun
Bottom Line
app. These have all proven to be highly popular, fun, and most importantly, a great way to engage citizens in meaningful conversations about the elections and make informed decisions.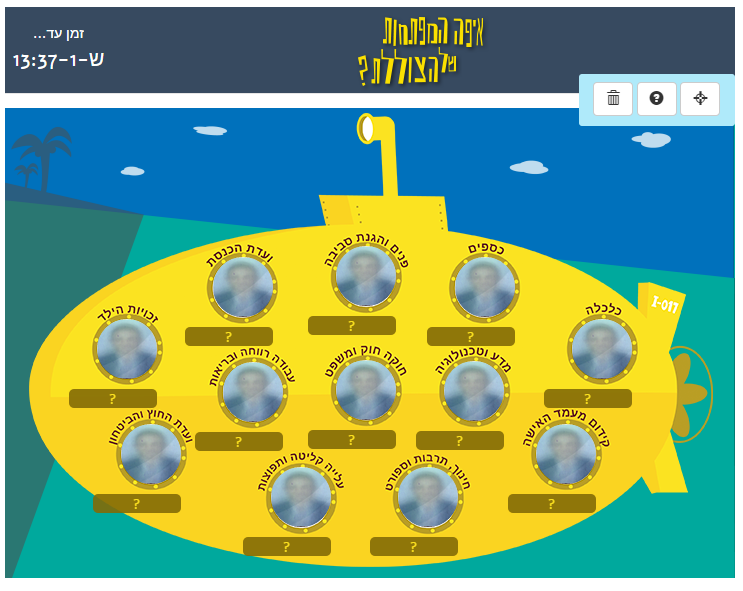 Hasadna Leads Data Journalism in IsraelHasadna was invited by The Marker, Israel's leading economic magazine, to deliver a special training session on our tools for the entire editorial staff. This initiative led to a very prolific collaboration, and gave birth to numerous investigative articles based on our tools, as well as to an extensive coverage of our websites. Moreover, it served as a general catalyst for the practicing of data journalism – journalism based on solid figures, and backed by data and analysis.
Our work with both Calcalist and The Marker financial papers led to a series of articles unveiling the covert mechanisms of the Knesset Finance Committee of processing money transfers. The story was further followed up by international press including the New York Times, ABC and many other leading media outlets.
Another exciting joint venture took place with the Shenkar College of Engineering, Design and Art. Mushon Zer-Aviv and Adam Kariv, who lead our BudgetKey project, taught an interdisciplinary workshop titled "data journalism", together with Shaul Amsterdamski, a prominent journalist at the Calcalist financial news site.
The projects submitted by the students at the end of the term took advantage of Hasadna data interfaces, which give easy access to very complex and voluminous data sets, otherwise unavailable for analysis. The students used our platforms to design some of the fun and engaging tools described above, to encourage civic participation by making sense of the elections.
All of these have led to a surge of media coverage, spreading the word about our tools, but most importantly –  kindling public concern with transparency, openness and accessibility of public records and good governance.
Ignorance of the Law is no Excuse?
Is it possible to be a law abiding citizen without access to the law? Israeli authorities seem to think so. When a piece of legislation is passed in Israel, it usually amends a series of different laws. These amendments should be incorporated into the law book so that every citizen has access to the most updated version of the law. However, to date, official publications of updated laws do not exist. Instead, citizens must rely on the publications of commercial bodies, in many cases only available for a fee.
When
Hasadna volunteer, Zvi Dvir, asked the Tax Authority for the official publication of the Tax Ordinance, he was therefore pleasantly surprised to learn that it existed. But when he tried to publish it online, he was threatened with "legal measures", because as it turns out, the Tax Authority itself had purchased the text of the updated ordinance from a commercial company, and claimed that it was copyrighted.
The story went viral on social media, made the
front page of the Marker magazine
and was featured on Channel 9 news, highlighting the absurdity of a state official claiming copyrights to our laws and prohibiting their publication.This is what Hasada and Wikimedia's joint project,
Open Law Book
is changing. It is a Wikisource based website, making Israel's laws open, accessible and free. Needless to say – we published the Tax Ordinance on our website, and it can be found
here
.
Where is our money going?
Our new BudgetKey website, which presents a comprehensive view of the national budget including the budget adjustments and transfers along the fiscal year, is making an impact around the world. Mushon Zer-Aviv, one of the project leaders and its graphic designer, presented the initiative at the International Conference of the Transparency and Accountability Initiative in Berlin. In his blog post he tells the fascinating story of the initiative from its inception up to this day, sharing with the readers the challenges and the achievements of the team on the thorny path to opening the national budget.
TV's Channel 10 News also featured the findings of our "
Open Pension
" team, according to which  pension funds are authorizing large loans to anonymous lenders designated as "private loans", without publishing details or conducting due diligence. Another The Marker article covered Hasadna's contribution to advancing the Open Government Partnership, an alliance of countries committed to promoting accountability, transparency and civic participation, which Israel joined in 2011.Consequently, we are seeing a rise in the number of journalists, politicians, researchers, and even school teachers, who are joining the  tens of thousands citizens using open data and our websites.
http://www.hasadna.org.il/wp-content/uploads/2016/03/hasadna-logo-en-light340.png
0
0
מרי לויצקר
http://www.hasadna.org.il/wp-content/uploads/2016/03/hasadna-logo-en-light340.png
מרי לויצקר
2015-03-16 00:04:09
2015-04-25 00:22:39